SMART NanoFab MBE System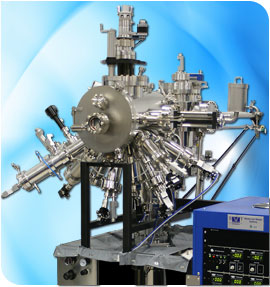 Versatile Compact Research System
SVT Associates' SMART NanoFab MBE system is the perfect combination of small footprint and large capability. The table-top UHV chamber includes a series of ports to accommodate a wide selection of deposition sources and process monitoring tools.
SMART NanoFab MBE Applications
III-V
II-VI
II-Oxides
III-Nitrides
Multi-Technique Deposition MBE
SMART NanoFab MBE Equipment Options
Load Lock for rapid sample exchange
RF Plasma Source
Deposition Sources
In-Situ Process Monitoring Tools
Deposition Sources and Monitoring Tools
Effusion Cells
RF Plasma Source
Gas Injection
RHEED and RHEED Image Analysis Software
AccuFlux In-Situ Process Monitor
Quartz Crystal Monitor
Linear Flux Monitor for Calibration
Technical Documentation
Contact SVTA for more information.