RF Plasma Sources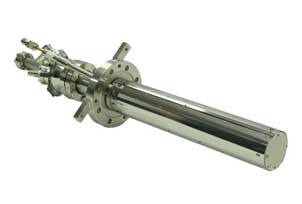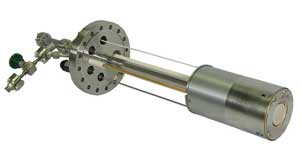 The SVT Associates RF Plasma Sources are used in a variety of applications including Nitride MBE, Oxide MBE, and other plasma processing techniques. Typically used to produce low energy beams of atomic nitrogen, oxygen and hydrogen, the RF Plasma Source enables growth and processing of today's most advanced materials. With three sizes of plasma sources, the SVT Associates industry leading Plasma Sources are used for R&D to production applications, and is one of our most popular MBE Components.
The SVT Associates RF Plasma Sources have demonstrated to have some of the highest dissociation efficiencies.1 2 This enables high growth rate applications such as GaN growth rates exceeding 4µm/hr. The RF Plasma Sources can also be configured for doping applications.
RF Plasma Source Applications:
Oxide Thin Film Growth

High Bandgap semiconductors
High Tc Superconductors
Optical Coatings
Dielectrics

Nitride Thin Film Growth

Optoelectronics
RF Devices

Nitrogen Doping

Thin Film Photovoltics (CdTe)
Dilute Nitrides

Oxygen Doping
Hydrogen Cleaning
Plasma Assisted CVD Processes
Three model sizes are available for research and production applications:
RF 2.75: Mini RF Plasma Source for Research
RF 4.50: High Growth Rate RF Plasma Source
RF 6.00: Production RF Plasma Source
A full range of Plasma Source Options and Accessories are available for automation and process control:
RF Generator
Integral Pneumatic and Manual Shutter
Ion Deflection
Optical Plasma Monitor for Plasma Diagnostics and Flux Control
Ion Extraction Grids for Ion Beam Assisted Growth
Auto-tune for matching network
Gas handling and control
RoboRF Software package for complete automation
Technical Documentation:
Contact SVTA for more information.
---
1 D.M. Kearns, D.R. Gillen, D. Voulot, R.W. McCullough, W.R. Thompson, G.J. Cosimini, E. Nelson, P.P. Chow, and J. Klaassen. "Study of the emission characteristics of a rf plasma source for atomic oxygen: Measurements of atom, ion, and electron fluxes". Journal of Vacuum Science Technology May/June 2001
2 D. Voulot, R.W. McCullough, W.R. Thompson, D. Burns, J. Geddes, G.J. Cosimini, E. Nelson, P.P. Chow, and J. Klaassen. "Characterisation of an RF atomic nitrogen plasma source". Journal of Crystal Growth, 201/201 (1999)